Stock Analysis
Analyst Downgrades, Earnings Delays Drag Cannabis Sector Even Lower
If the stock market has a bad day, investors in the cannabis sector feel the pain more deeply. That may not be an established corollary, but it was exactly what happened yesterday. The overall drag on the markets Monday only compounded the marijuana sector's dismal start to the week that was triggered by a confluence of bad news.
And by yesterday's closing bell, a long list of cannabis stocks had suffered significant losses, with Tilray (NASDAQ:TLRY) and Cronos Group (NASDAQ:CRON), (TSX:CRON) leading the downward march, each notching more than 10% losses on the day.
Tilray was the hardest hit, dropping 10.74% after Cowen & Co. analyst Vivien Azer downgraded a string of Canadian-based pot growers following a revision of the forecast for so-called cannabis 2.0 products. The Wall Street analyst said retail sales of edibles, cannabis-infused beverages and other infused products will not meet earlier expectations. The bottom line: these products will not be the big fix that will bolster the growers' revenue shortfalls.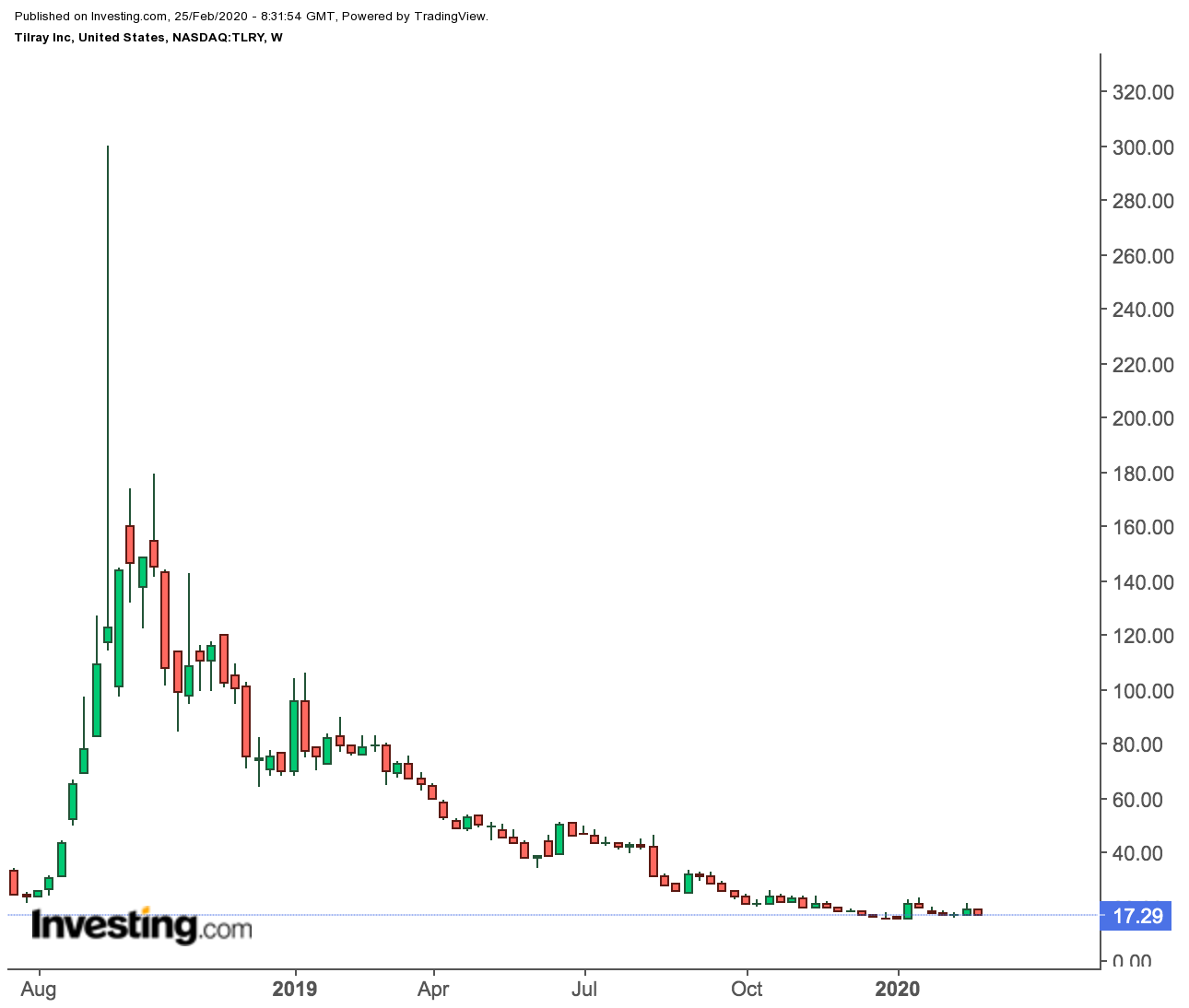 Tilray Weekly Price Chart
In a note to clients on Monday, Azer said she has dropped her sales forecast for Canada's cannabis industry by a whopping 32% from her last forecast issued in November. She now believes the Canadian marijuana market will be C$3.5 billion (US$2.6 billion) in 2020. The size of the market has been steadily downgraded since January 2017, when Azer had forecast the market would hit C$7.2 billion (US$5.4 billion) in sales.
Azer pointed to two major challenges the cannabis sector faces in Canada: the continued short supply of retail outlets, the slower-than-expected rollout of a wide array of 2.0 products and the continued aggressive pricing of dried cannabis still available on the black market. She added that she expects 80% of the market for dried cannabis will continue to be served by illicit suppliers.
Azer's statement concluded by stating Cowen was downgrading its rating of Aurora Cannabis (NYSE:ACB), (TSX:ACB), Sundial Growers (NASDAQ:SNDL) and Tilray.
Shares of Tilray reacted immediately. They went from hitting US$18.13 down to US$17.10 before rallying slightly before the closing bell to end the day at US$17.29.
Aurora Cannabis stock also headed south. It lost more than 7% in New York and 5.88% on the S&P/TSX Composite, while the Calgary-based Sundial Growers, which is only listed on the Nasdaq, seesawed for most of the day and closed up 2.61%
But the specific stocks named by Azer were not the only ones affected. The sentiment of the announced downgrades was enough to send several other pot stocks spiraling a little further down as well.
Canopy Growth (NYSE:CGC), (TSX:WEED), Hexo (NYSE:HEXO), (TSX:HEXO), Medipharm Labs (OTC:MEDIF), (TSX:LABS) and Curaleaf Holdings (OTC:CURLF), (CSE:CURA) all slipped more than 6%, while Aphria (NYSE:APHA), (TSX:APHA), Aleafia Health (OTC:ALEAF), (TSX:ALEF) and Charlotte's Web Holdings (OTC:CWBHF), (TSX:CWEB) all lost between 3.29% and 5.50%.
Cronos Stock Takes A Hit For Delaying Earnings Report
Cronos Group's shares dropped more than 10% on both the S&P/TSX Composite and Nasdaq on Monday after the Toronto-based cannabis grower announced it is delaying the release of its latest quarterly earnings report.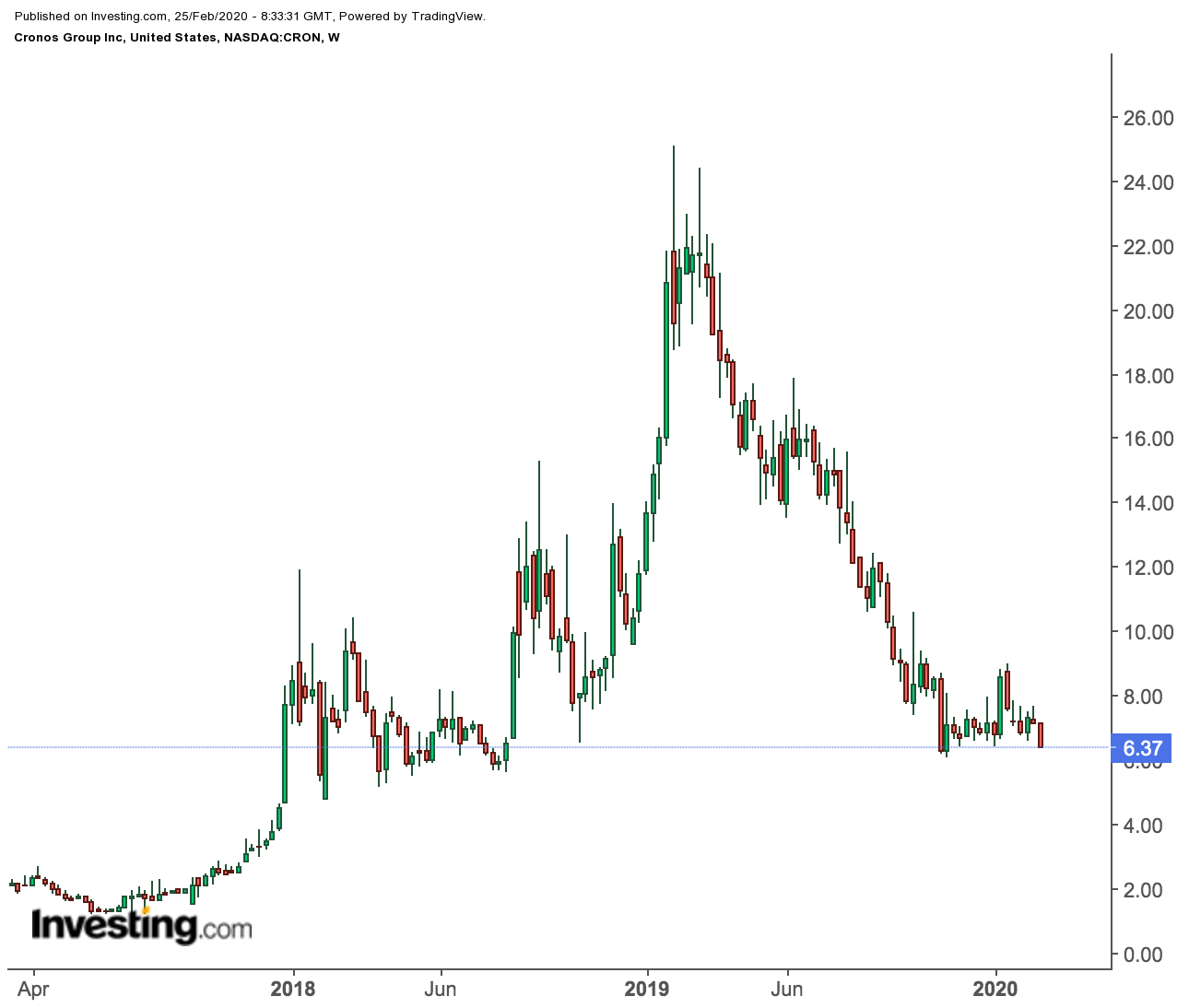 Cronos Group Weekly Price Chart
Cronos was scheduled to unveil its 2019 fourth-quarter financials on Thursday, Feb. 27, but in a statement issued early Monday said it had to reschedule the release without giving a specific reason. The statement simply said there had been a "delay in the completion of its financial statement." No alternate date when the financials would be made public was offered.
The company was also scheduled to review year-end results for 2019, a year that has been tough for the marijuana company.
Like many players in the cannabis sector it saw much of its market cap evaporate in the second half of 2019. Shares of Cronos dropped more than 67% in the last year. After hitting their highest peak of 2019 in March of that year, to trade at US$23.70 (C$31.77), they marched steadily downward. So far this year, shares of Cronos have not gone higher than US$8.55 (C$11.50)
They closed Monday at US$6.37 (C$8.49).