Top News
Chart Of The Day: Why The Dow Jones Rally Won't Endure
While we predicted yesterday's exuberant rally, we also said it won't last. We forecast the Fed will likely give in to rate cut demands, but will resist doing so, because it knows the action would be ineffective.
Nevertheless, Fed Fund futures are already pricing in a half-percent cut in March. On top of that, U.S. President Donald Trump had restarted his pressure on the Fed, encouraged by the Australian central bank's decision to cut interest rates by a quarter percent.
But why would a Fed rate cut be ineffective? First, it's already expected. So, the Fed would have to really wow the market to reawaken its animal spirit — and it doesn't have that much room in which to maneuver.
Secondly, and more to the point, the issue at hand is the coronavirus outbreak — and the world is no closer to managing it, never mind eradicating it. Growth is expected to be the worst since the financial crisis, as manufacturing lines and supply chains are thrown into turmoil.
Finally, we could see a return to a U.S.-Sino trade war, if China doesn't honor its promises on the Phase One deal.
Also, from a technical standpoint, the fortunes of the Dow don't look good.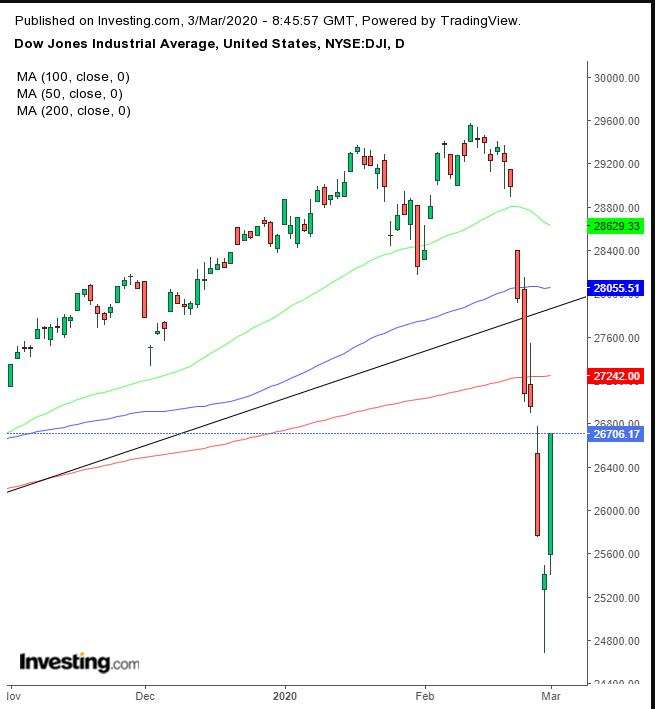 Dow Daily Chart
On the one hand, the MACD and the RSI are extremely oversold, with the latter reaching the lowest level since August 2015, while the price hammered out a support at the 25,000 support, both from the May 31 low and the uptrend line since January 2009.
However, on the other hand, bulls have to climb back up a jagged mountain after the price cut through the uptrend line since its December 2018 flirtation with a bear market, "protected" by the 200 DMA.
Conservative traders would wait for a new record, then a downward correction to the uptrend line before risking investing in this market.
Moderate traders may risk a long position after signs of accumulation above the broken uptrend line.
Aggressive traders would short upon the first sign of resistance, or above a presumed resistance, with a stop-loss calculated to provide a positive risk-reward ratio that fits their budget.
Trade Sample – Short Position
Entry: 27,300 (above 200 DMA)
Stop-Loss: 27,400
Risk: 100 points
Target: 25,300
Reward: 2,000 points
Risk:Reward Ratio: 1: 20